School Uniform
We are very proud of our school uniform.
It is expected that all pupils from Nursery to Year 6 wear school uniform everyday.
Nursery and Reception children wear navy blue polo shirts.
Children in Years 1 to 6 wear yellow polo shirts.
Uniform can be purchased from the school office, in the mornings and the afternoon.
Below is a list prices for the items.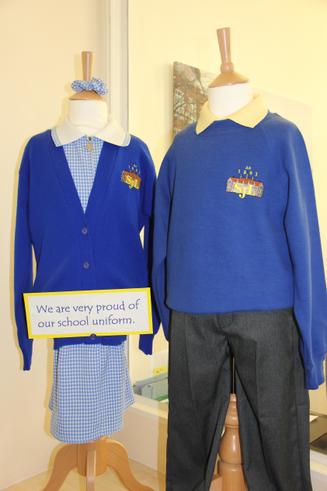 Items

Sizes available

Prices
Royal Blue Sweatshirt

3-5 yrs

5-6 yrs

7-8 yrs

9-10 yrs

10-11 yrs

£12

XS adult

S adult

M adult

L adult

£14
Royal Blue Cardigan

3-5 yrs

5-6 yrs

7-8 yrs

9-10 yrs

10-11 yrs

£13

XS adult

S adult

M adult

L adult

£15
Yellow polo shirt

4-5 yrs

5-6 yrs

6-7 yrs

7-8 yrs

9-10 yrs

11-12 yrs

£9

XS adult

S adult

M adult

L adult

£11

Navy Blue Polo Shirt

(Nursery/Reception only)

3-4 yrs

5-6 yrs

7-8 yrs

£9
School rucksack
Small
£9
School rucksack
Large
£11
Summer Dresses

Blue and white check

These can be purchased from any supplier of school uniform

White plain t-shirt

(Girls and Boys for P.E.)

These can be purchased from any supplier of school uniform

Navy joggers or shorts

(Girls and Boys for P.E.)

These can be purchased from any supplier of school uniform